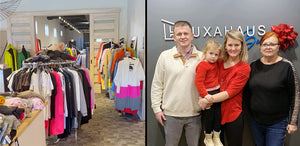 Wojas available at your local store
Do you like online shopping? Or rather trips to stationary stores with friends? Let me guess… both of them, am I right? By visiting a brick-and-mortar store, we can track down what you can't see in online photos.
Everyone has a different type of figure. Even if the selected clothes look great on our model, not everyone may like their reflection in the mirror (naturally, when you try on clothes ordered online). We try to describe each product as best as possible. Not only the size is important, but above all the length of the insole, the height of the upper, heel and, of course, the color. Before shipping, each order is carefully checked for possible damage and discoloration. Although it is very, veeeery rare for a pair of shoes to have manufacturing defects!
Wojas in Local Store in Chicago
Did you know that Luxahaus Beyond is not just an online store. Beyond is primarily a local business. We have a huge stationary store where you can spend up to several hours watching, comparing and trying on our goods. 
Anyone who lives near Elk Grove Village in Chicago can try on the famous Wojas shoes imported from Poland.
The Wojas brand is making a splash in this part of Chicago. More and more often you order these wonderful leather shoes and handbags. And that's one of the reasons that it is great to live in Chicago: we have the best pizza, great basketball players and… Wojas shoes.
Store location: 1295 Jarvis Ave, Elk Grove Village
---